Inflatable Kayaks - Max. load - 231 - 280 kg
Inflatable kayaks are stable, secure, manageable and easily packable. Kayaks for recreation are designed for sailing on calm water, such as lakes or sea bays. Kayaks for tourism will use for day trips or traveling on rivers with a lower degree of difficulty. Whitewater kayaks are designed for experienced paddlers river rides with a higher degree of difficulty.
Quick info
Akce -5%
+ Gift


Gumotex SEAWAVE - Thanks to its long narrow shape, the SEAWAVE kayak is easy to control and very fast.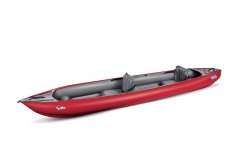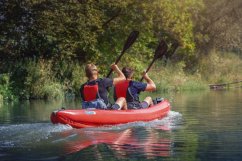 Rating value is 5 of 5
In Stock
1 033 €
GUMOTEX SOLAR inflatable kayak serves for both trips on lakes and touring on rivers up to WW2. Set includes pump, paddles, manometer.
Quick info
Akce -8%
+ Gift


| | |
| --- | --- |
| Podlaha | Vysokotlaká podlaha |
Velmi stabilní vysokotlaký kajak na rekreační pádlování na moře a jezera nebo mírné řeky.
Pomůžeme Vám s výběrem nafukovacího kajaku od Gumotexu. Srovnali jsme oblíbené otevřené turistické kajaky Twist, Solar, Thaya a SeaWave. Bude Vám stačit nejlevnější Twist nebo se vyplatí připlati si za univerzální kajak Solar, pohodlnou a stabilní Thayu nebo využijete největší a nejrychlejší kajak Seawave?