INFLATABLE BOATS - Max. load - 180 kg
Inflatable boats are stowable and unsinkable. Many types are produced, from single-seater kayaks to canoes, rafts and inflatable motor boats. With inflatable boats, you will encounter a big difference in the quality of materials and construction - from cheap inflatable toys to top inflatable boats, which with their properties are close to solid boats.
Quick info
Special offer -14%
until 17.12.
+ Gift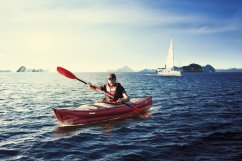 FRAMURA is the fastest kayak produced by GUMOTEX. It is is designed for leisure and touring and...
Quick info
Special offer -23%
+ Gift
| | |
| --- | --- |
| Podlaha | Vysokotlaká podlaha |
Kajak Steam 412 kombinuje drop-stich dno s robusními bočními válci a díky tomu je stabilní, rychlý a dobře se vede.